copyright 2000. poor al.
BIGGER GUNS AND SMALLER BRAINS
---
Click on the small image to see a close-up view of the canvases.

Knife of Abraham #3G, October 2000.
The Knife of Abraham is Earth-Mart's largest model of self-propelled gun currently in service. If you don't know the story of Abraham and his knife, please report to your local Ministry of Faith office on Sunday morning and request more information. The Ministry of Art isn't authorized to explain issues of religion.
The canvas is 52"X12" on thick bars, and in the private collection of DJ LA JEY.

Railgun #1, November 2000.
Arms designers from all over the world were commissioned to each design their own 'railgun' as part of the "back to the golden age of industrial growth" theme for Earth Day 2008. The Italian delegate to the Arms Design Council offered up his remake of the M93 French Railgun from WWI(used by the French), and World War II(20 captured from the French and used by the Germans).
The canvas is 30"X 8" on gallery bars. SOLD.

Railgun #2, November 2000.
The German designer came with this classic remake of the World War II Gigaten Dora railgun. This version was streamlined for cost purposes, so it is a little smaller than the original Dora, having only two sets of wheels to run on. (rather than four, the original required two sets of train tracks to travel.)
The canvas is 40"X 8" on gallery bars. SOLD.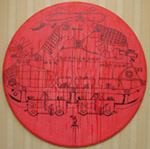 Super Gnat #5, November 2000.
High Command's dreams for the largest most lethal attack helicopter came true when the Earth-mart scientists invented the Super Gnat model gunship. Capable of carrying a full Company of bots into battle, and support devastating suppressive fire, the Gnat design was put into production with little questions asked, aside from "Who should we try 'em out on?".
The canvas is 40" in diameter. SOLD. In the private collection of Kevin Freitas. (www.artasauthority.com)
---