copyright 2002. poor al.
BIGGER GUNS AND SMALLER BRAINS: PART two
---
Click on the small image to see a close-up view of the canvases.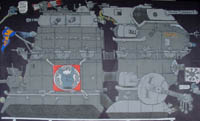 Peacemaker #3B with Crowd Crusher 4000 Technology (TM). April 2002. For Sale $800.
The Peacemaker #3B is the latest in self-contained armored vehicle technology. The canvas is 36X60X2". Biggest metal machine built by Earth-mart forces to date, this represents the best in robot engineering success. Crowd Crusher 4000 Technology is R&D's latest and greatest 'clearing' hardware.
Contact Poor Al for more information.
---