copyright 2002. poor al.
French Grenade a' Main Offensive: SOLD
(in the private collection of Gallery Now, Lemon Grove CA.)
6X8", Acrylic on Canvas, August 2002.
Again, similar to the design of the Mill's Bomb (No. 36 British grenade), the user pulls the ring while holding down the lever. This is the main French grenade of WW2.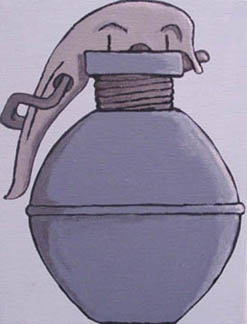 <<Back to the Grenades section...