copyright 2002. poor al.
German Discus Grenade World War 1: SOLD
6X8", Acrylic on Canvas, August 2002.
Typical overcomplicated German design, this World War 1 grenade was an all-ways percussion type. The user removed the safety pin and cap, and then threw it like a discus. A safety pellet would fall out during flight and the outer pins would expose themselves. When it collided edge-wise with the ground, the spike would collide with striker and explode the grenade.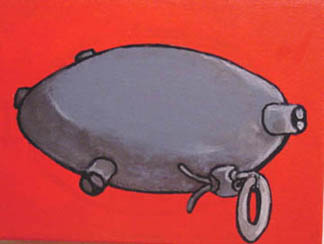 <<Back to the Grenades section...